Main window overview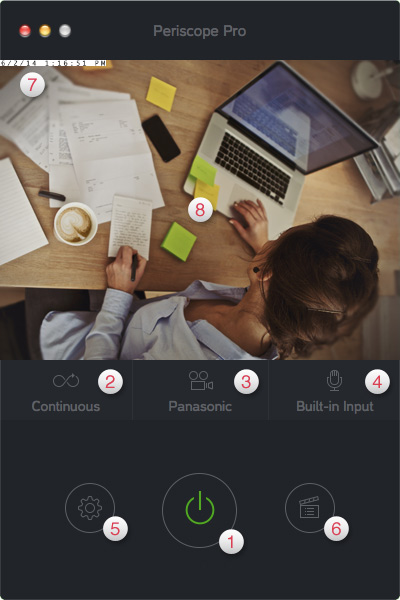 Start/Stop button. This button acts like a switch. When it is turned OFF - there is no recording and motion and audio activation are disabled, but camera and microphone are functioning. When it is turned ON the application is active - records videos, detects motion and/or sound. More details here.
Timestamp - it can be turned off in Preferences.
Video preview - displays video stream. Also could show some service messages, like 'camera not connected' etc.
Application started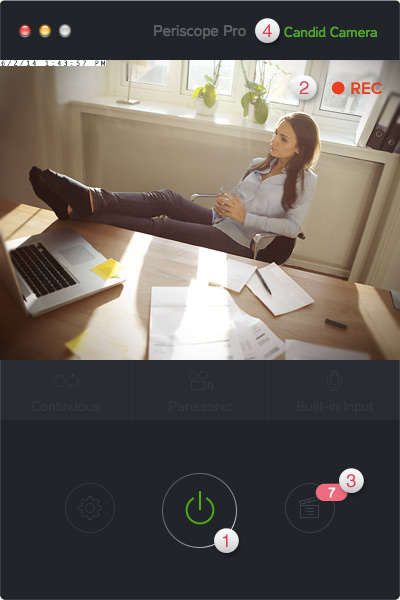 Start/Stop button. When application is ON, a patch of light travels around button indicating that application is active.
REC indicator, this indicator appears when application is actually recording video. If recording mode is set to Continous it will be turned on all time.
Number of recorded clips indicator. While it is not very useful in Continuous mode, it becomes very handy in Motion/Sound detection mode - it indicates the number of clips that have been taken since the last time you looked at the Clip Library.
Candid Camera - this playful button makes Periscope Pro totally invisible. It is useful when you want to record covertly. Perescope Pro is revealed by clicking on its icon in Launchpad.
Recording mode selection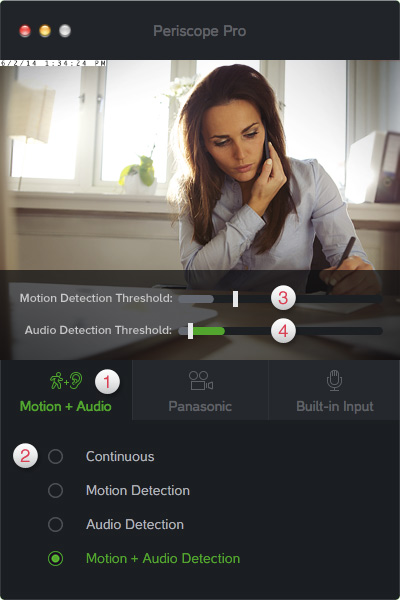 Currently active recording mode. If you want to return to main view click on the icon.
Recording modes:
Continuous. Click Start/Stop button to begin recording, then click it again to end recording. Works just like standard video recorder.
Motion Detection - triggers recording when motion is detected. Movie will be recorded while motion is registred, plus 10 seconds after motion stops. This is true for all detection modes below.
Audio Detection - triggers recording when sound is detected.
Motion + Audio Detection - triggers recording with either motion or sound is detected.
Motion Detection Threshold - motion sensivity. Move slider to the right for less sensivity, that is, to require more movement to activate recording.
Audio Detection Threshold - sound sensivity. Move slider to the right for less sensivity, that is, to require a louder sound to activate recording.
Camera selection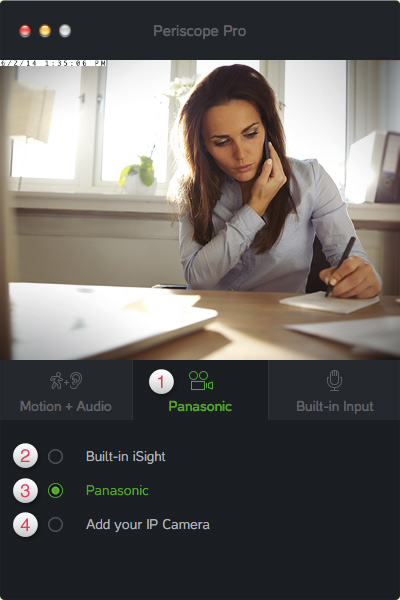 Currently active camera. If you want to return to main view click on the icon.
Built-in camera. Periscope Pro works with built-in and USB cameras. All cameras connected to your MAC will be listed here.
IP camera. You can double click on IP camera name to edit its settings.
Sound input selection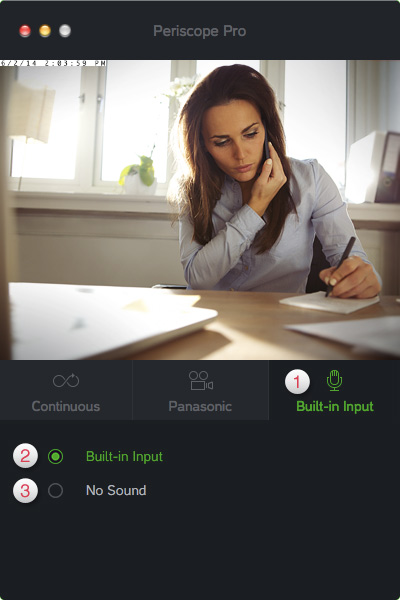 Currently active sound input. If you want to return to main view click on the icon.
Built-in sound inputs will be in this list. Currently Periscope Pro works only with built-in sound inputs.
Don't use sound input. When this option is selected. Sound Detection and Motion + Sound detection are not available in recording modes.
Preferences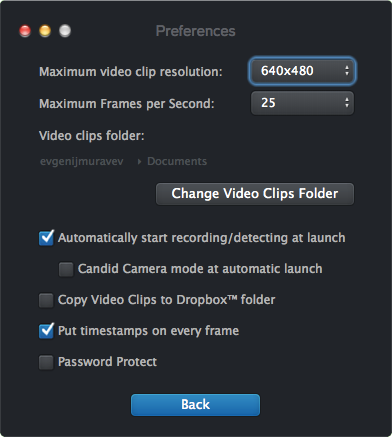 Maximum video clip resolution. Sets maximum spatial size of recorded videos. Works differently for built-it cameras and for ip cameras. For built-in cameras Persicope Pro tries to configure video source to provide frames with defined size. For IP cameras it tries to shrink video frames if they are bigger then the selected size.
Maximum Frames per Second. Sets the number of frames recorded in each second of the clip. The more frames per second, the smoother the movie will be, but the higher the value Frames Per Second, the more disc storage you will need for each clip. Periscope Pro tries to maintain the selected FPS, but it is not always possible to do so.
Video clips folder. You can change the default location which Periscope Pro uses for storing video clips. Please note, that changing the Video Clips Folder will not move/copy video clips from the old folder to the new one.
Automatically start recording/detecting at launch. If this option is enabled, Periscope Pro will automatically start when the computer starts. It will aslo press Perescope Pro's Start/Stop button.
Candid camera mode at automatic launch - works only if previous option is enabled. Automatically goes to Candid camera mode at launch.
Copy video clips to Dropbox™ folder. When this option is enabled. Periscope Pro will copy video to selected folder right after capturing. Literally you could select any folder, but if you select the Dropbox™ folder and have the Dropbox™ client installed, it will automatically upload the captured video to Dropbox Storage and you can access it from anywhere.
Put timestamps on every frame. Adds white rectangle with date and time to the upper left corener of video clip.
Password protect. Gives you ability to password protect Periscope Pro. This should not be considered as enterprise protection, but works well in most cases.
Clip Library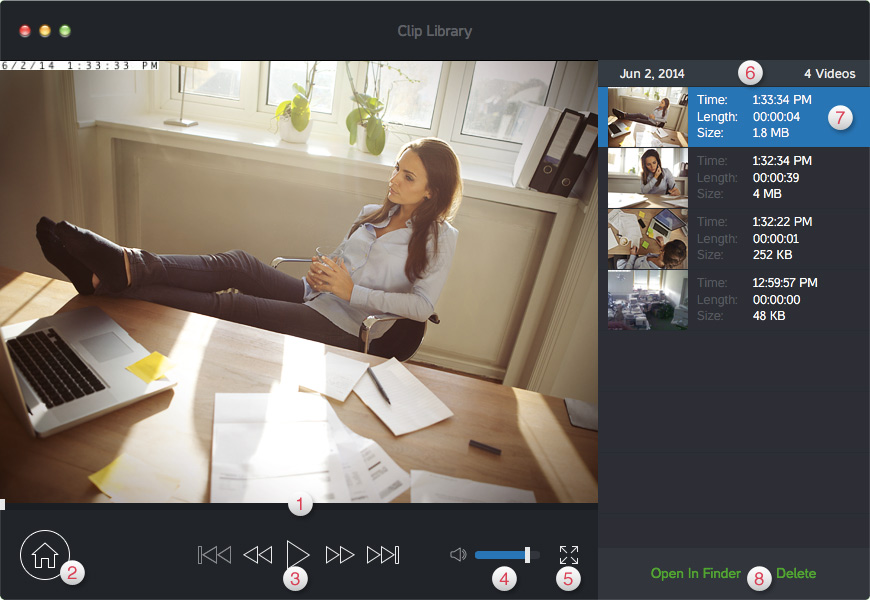 Video clip timeline. Click it, or drag the knob to find interesting moments in the video clip.
Home button. Click it to return to the main view.
Standard video player controls.
Volume control
Full screen. Click it to go in Full Screen mode.
Each day will be marked with a special header to help you navigate faster through clip library.
Clip preview and metadata.
Self descriptive clip manipulation tools.
Adding/Editing IP Camera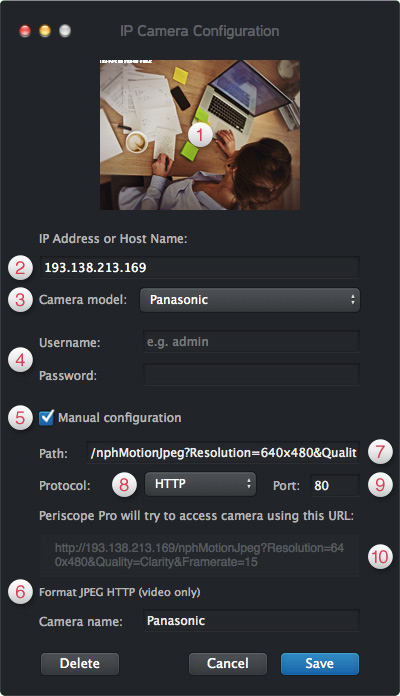 Video preview and assistant messages.
IP Address. If you don't know what the IP address is, consult the IP camera's user manual.
Camera model. Periscope Pro supports many types of IP Cameras, if you can't find the model of your camera - select "Custom IP Camera" and try to configure it manually.
Credentials for your IP Camera. Currently Periscope Pro supports only Basic Auth. If your camera expect a login and password in the stream path please configure it manually.
Manual configuration - reveals [7], [8], [9]
Format. Currently Periscope Pro supports only Motion JPEG (MJPEG) video format for IP Cameras.
Manual configuration - Path. This is the path where your video stream located. If your camera model is not in the list. You can try Goggleing something like this: [camera model] mjpeg path.
Also path could contain additional configuration options like fps, resoultion, channel etc., if you know what you are doing you can configure these additional parameters via changing this option.
Protocol. If your camera supports streaming over https, you can select it here.
Port to connect to camera. Your IP Camera may stream video not a non-standard http port, so change this if you know what you are doing.
Full URL that Periscope Pro will try to connect to. Great for debugging and resolving problems.